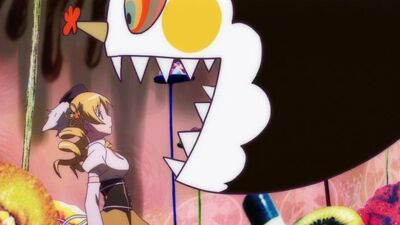 Mami Mogu Mogu
is a term about a certain
Magical Girl
's head gets bitten off by a doll-like
Candy Witch
who can turn into a giant caterpillar.
It was pretty horrifying though.
Fiction appearances
Canon
Main Article: Madoka Magica Episode 3.
Fanon
TBA
Trivia/Notes
According to the original script of Raven: Half-Human, Half-Witch, Kyra Kanade was meant to die from decapitation by Raven, but her death was changed into being stabbed in the stomach for some reasons.
See Also