NOTE: This page is purely fanon material. I recommend you not to take this seriously.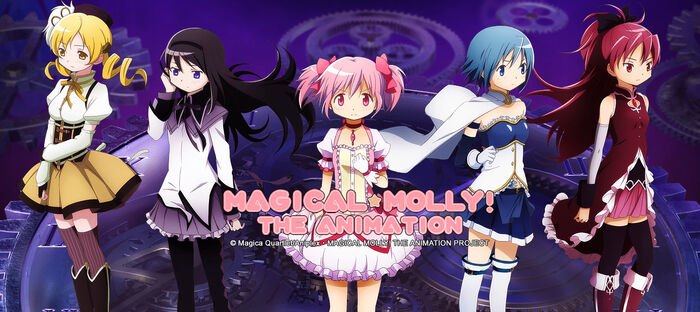 Magical Molly! THE ANIMATION is a Japanese/American Anime series created by Magica Quartet, Aniplex of America, and Hasbro. The series is a part of the Magical Molly! Reboot series, and the first of the Kajiuran Crusaders franchise.
The show will be broadcasted simultaneously in US & Japan. A year later, the Japanese dub of the series is available online in Youtube, with (official) English subtitles. The entire series is also available in DVD-BOX sets in uncut format.
Summary
TBA
Characters
Episodes
TBA
Music
Opening Theme
TrySail - Kakawari (Season 1)
ClariS - Alicia (Season 2)
Ending Theme
ClariS - Connect (Season 1)
TrySail - Gomakashi (Season 2)
Cast and Crew
Cast:
Suzuko Mimori (JP)/Andrea Libman (EN)- Molly Kaname
Izumi Kitta (JP)/Ashleigh Ball (EN) - Hilda Anderson
Eri Kitamura (JP)/Sarah Williams (EN) - Sabrina
Kaori Mizuhashi (JP)/Carrie Keranen (EN) - Maria Thompson
Ai Nonaka (JP)/Lauren Landa (EN) - Kacey Stevens
Jun Fukuyama (JP)/Xander Mobus - Hyde Anderson
Aoi Yuki (JP)/Christine Marie Cabanos (EN) - Madoka Kaname
Kana Asumi (JP)/Xanthe Huynh (EN) - Nagisa Momoe
Sakura Tange (JP)/Sally Amaki (EN) - Maddie Kazusa
Aya Uchida (JP)/Jillian Ashcraft (EN) - Monica
Azusa Tadokoro (JP)/Shannon Chan-Kent (EN) - Kristen Margaret
Saori Hayami (JP)/Kelly Sheridan (EN) - Olivia Mikuni
Yuka Iguchi (JP)/Cherami Leigh (EN) - Katie K. Kure
Manaka Iwami (JP)/Lisa Reimold (EN) - Seira
Eri Suzuki (JP)/Deneen Melody (EN) - Lylia
Kana Ueda (JP)/Stephanie Shen (EN) - Alice Nachelle
Nao Toyama (JP)/Karen Strassman (EN) - Christina Shion
Yoshino Nanjo (JP)/Elizabeth Maxwell (EN) - Sapphire Amano
Rie Murakawa (JP)/Ariel Winter (EN) - Melody Hinata
Kana Hanazawa (JP)/Faye Mata (EN) - Raven
Mimori Sasaki (JP)/Tabitha St. Germain (EN) - Yuuri Asuka
Hisako Kanemoto (JP)/Jeannie Tirado (EN) - Kathryn Hinata
Mariya Ise (JP)/Lindsay Seidel (EN) - Jinna Asumi
Ai Kakuma (JP)/Bella Thorne (EN) - Sabrina Mickey
Emiri Kaotou (JP)/Cassandra Lee Morris (EN) - Arstera
Crew
Director: Ryouki Kamitsubo
Character Design: Takahiro Kishida
Music:

Shinkichi Mitsumune (Movies & TV Series)

Music Production:

Lantis Company, Limited (TV series)
Warner Bros. Music (Movies)

Theme Song Performance: ClariS, TrySail
Producer: TBA
Distributor:

Hasbro
Aniplex of America
Magica Quartlet
Home video
Main Article: Magical Molly! THE ANIMATION/Home Video Releases
The DVD home video releases were planned by Hasbro and Warner Bros. Entertainment Inc.
Trivia/Notes
Rating: TV-PG, TV-PG-V
Despite theories, the TV series is NOT a reboot of Puella Magi Madoka Magica, but instead it's a non-4Kids remake of Magical Molly!.
This was also the first Magical Molly! series NOT to be produced by 4Kids Entertainmment.

The reboot also did not credit 4Kids as creative consultants.

One of the most popular fake working title of this series is "Puella Magi Molly Magica".
It was rumored that they will made an Episode based on Madoka Magica's drama CD: Sunny Day Life.
Originally ClariS were meant to sing the theme songs for the show, but due to Alice being graduated from college, it was replaced by FictionJunction instead. Some of ClariS' songs, old and new, were featured as the theme songs of the series.
And no, the Japanese dub will NOT feature any ad-libbing.
Magica Quartet and Aniplex originally approached Saban for the reboot, using Smile Pretty Cure as its base under the name "Gandam Girls". The two later cut ties with Saban, and the project became "Glitter Force". After Saban filed for bankruptcy, Aniplex sold the rights to Hasbro.
See Also
Community content is available under
CC-BY-SA
unless otherwise noted.